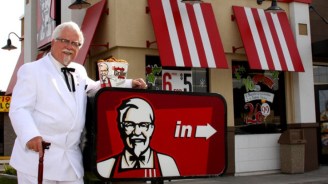 KFC seems to be checking Dwyane Wade's posts on Twitter.
Miami's one of the "Big Three", Dwayne Wade is one of the many big-time players who is dismayed with the lockout happening in the NBA. The Miami basketball star tweeted June 30 — after the NBA announced a player lockout — asking,
"Any1 hiring?" The fast food company, which at one point actually did employ Wade, replied.
KFC has sent Dwayne Wade an offer letter.
"We couldn't help but notice your recent tweet about looking for a new line of work in light of the lockout," KFC wrote in the letter. "We're always looking for folks with precisely your qualifications — initiative, teamwork and the ability to make buckets in a hurry," KFC U.S. general manager John Cywinski say in the letter.
While KFC acknowledges that they wouldn't be able to match the salary of a star basketball player, they told Wade that in exchange for him working a shift or two for them as an honorary captain at a drive-thru window, they would donate $250,000 in his name to Colonel's Scholars.
It wouldn't be Wade's first time in a KFC uniform. Wade told Sports Illustrated in 2006 that his only other job before becoming an NBA superstar was working at a KFC in the Chicago area.
"We've always been proud to call you a former KFC employee and, it goes without saying we'd love to have you back on our team dishing out the World's Best Chicken, like you dish out assists on the court," reads the letter.
Rick Maynard, public relations manager for KFC, said that they haven't received a response from Wade yet, but they are hopeful, and that they'd love to put him to work for a shift or two.
Read more basketball news at www.everythingbutbasketball.com
Get the latest sports news from SportsNewscaster.com straight to your e-mail inbox by subscribing to our RSS feeds via e-mail for free. Enter your e-mail address below and confirm your subscription by clicking the link that will be sent to your e-mail.